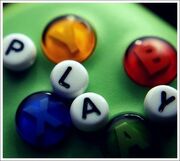 Reward Cards - Every server day that you log in to the Mobsters 2:Vendetta game, you will be issued a card from a regular 52 card playing deck.
If you do not log into game on any given day, you will forfeit your card for the day you didn't log into game.

If you've forfeited a card during the week, the missed card will show up as a RED X in your card hand like this:



There is no cost to receive a free daily card (on the day of issue) and there is no cost if you forfeit a card. However if you wish to acquire a card for
a day you missed, it will cost you three (3) favor points to replace the missing card.

This game plays for seven consecutive calendar days and starts over anew at the beginning of the next seven days.
You can see your hand anytime in the "My Loot" section.
To reach the My Loot section, click on the "Missions" tab and the My Loot button will be located on the top right side of the game window.



The object of this mini-game is to make the best 5-card poker hand you can make, then redeem (cash in) your hand to claim your reward. At the end
of seven consecutive days (regardless if you sign on or not) you'll be given 24 hours to:

       1. Acquire missing cards at a cost of 3 favor points for each card you wish to acquire
       2. Exchange any number of your existing cards for new cards at a cost of 2 favor points for each card you choose to exchange
       3. Redeem your cards for the posted reward

It does not cost to redeem (cash in) your cards at the end of the week and claim your reward.
If you do no claim your reward within 24 hours of the end of the game week, you will forfeit your right to claim any reward.
Here are the possible rewards you can win: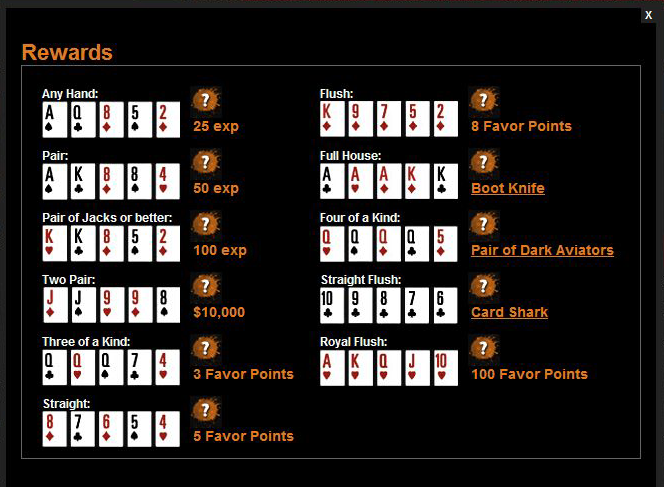 Information contained on this page contributed by:
Ad blocker interference detected!
Wikia is a free-to-use site that makes money from advertising. We have a modified experience for viewers using ad blockers

Wikia is not accessible if you've made further modifications. Remove the custom ad blocker rule(s) and the page will load as expected.