Consolidated Equipment List
   |  
Godfather items
are items that provide a means of protecting yourself. They are often considered extremely rare or powerful and can be a very valuable asset when attacking others.
---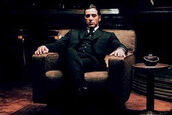 The Godfather offers you various powerful rewards in exchange for Favor Points. (FPs are NOT necessary for game play or game advancement)
Favor points may be obtained by completing certain missions in game, by completing special offers from the Godfather or by purchasing them using real world currency. Favor points may not be exchanged between players or accounts.
Favor points may be used for gambling in Coney Island, obtaining various upgrades, refills, quick cash, and for Black Market items. Favor Points may also be used for Featured Items sometimes referred to as LE ( Limited Edition) items which usually have much better stats than regular equipment items. Featured items are considered very valuable, and useful in game fighting because of their boosted stats and how difficult they are to obtain.


Information contained on this page contributed by:
Ad blocker interference detected!
Wikia is a free-to-use site that makes money from advertising. We have a modified experience for viewers using ad blockers

Wikia is not accessible if you've made further modifications. Remove the custom ad blocker rule(s) and the page will load as expected.