Back to Rackets
---
Perform Rackets and receive special payouts. Be careful, though; if you don't return to complete the Racket in time, you won't receive anything ... Capice?
---
Certain missions require items won by successfully completing a racket. To successfully complete a racket:

1. Go to the Rackets section (click MISSIONS tab, then RACKETS tab)

2. If this is the first time you have accessed the RACKETS tab, it will cause a pop up window to appear:

3. Once the window above appears, click on the red "START MY RACKET" button.
You will be presented a new window and will have the ability to start up to five different "Rackets" (or five of the same) depending on your character's level.
You must be level 3 to unlock the first racket. You must be level ?? to unlock the second racket. You must be level 12 to unlock the third racket. You must be leve ?? to unlock the 4th racket. You must be level 20 to unlock the fifth racket.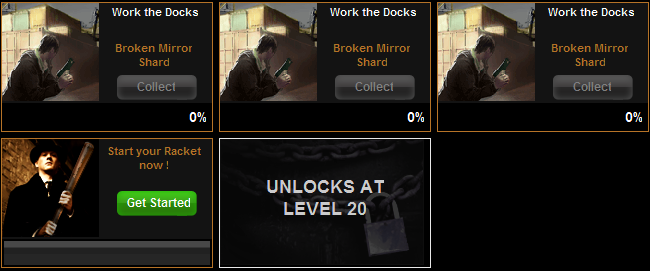 (Basically you get the opportunity to earn up to five different rewards or up to five of the same rewards all at one time.)
To start a racket, click on the green "GET STARTED" button: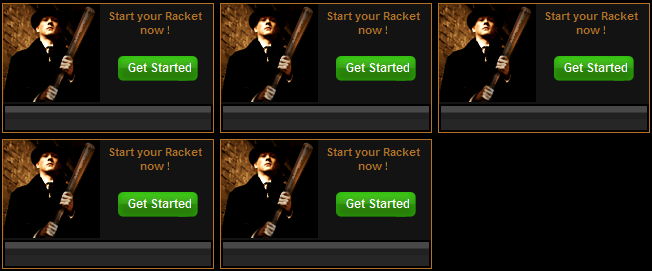 4. You'll be given the option to choose from five different rewards/payouts as shown in the picture below.
Choose which reward/payout you want to receive by placing your cursor over the reward you want and clicking it.
Make note of the completion time so you can return to claim your reward before it expires.
Also notice that each reward/payout will cost you money/investment capital (which shows as "Requirement" in the window of the reward) so be prepared to pay out some coin for the desired reward/payout.
The reward for "Dose of Steroids" rotates which means that it will give you the option to choose between Dose of Steroids, First Aid Kit, Energy Drink or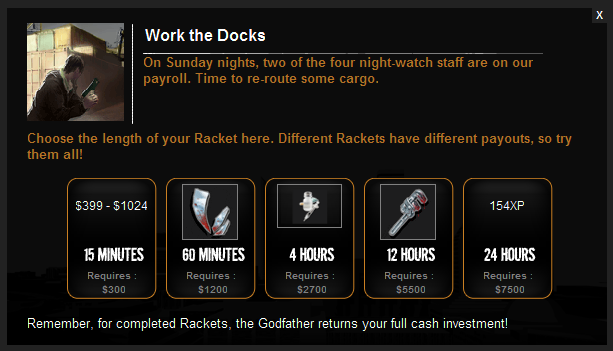 5. Return to claim your reward/payout after the racket has completed (reached 100%)
You can check the status of your racket completion time by looking at the status bar on the bottom of the racket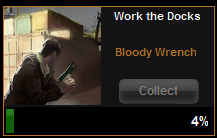 6. If you fail to return within the required timeframe you'll get an EXPIRED notice: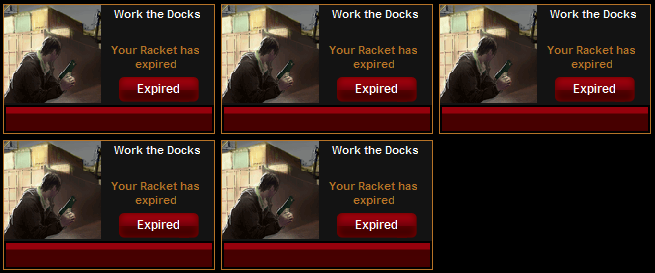 </center>
and will need to start again. You will have lost your investment capital and need to deposit more money if you want to start the racket again.
<center>
7. If you are successful in returning within the required timeframe you'll be rewarded with your chosen item PLUS you'll receive your investment capital back.

8. To retrieve your reward, simply click the "COLLECT" button and you are done (freeing up the racket spot so you can do another racket if desired).
WARNING: You must return to claim your reward within (UNKNOWN) minutes after the racket has completed or you risk loosing the reward/payout.
Ad blocker interference detected!
Wikia is a free-to-use site that makes money from advertising. We have a modified experience for viewers using ad blockers

Wikia is not accessible if you've made further modifications. Remove the custom ad blocker rule(s) and the page will load as expected.